Legal Aid Client Testifies before United States Senate Banking Committee
Posted May 25, 20224:00 pm
---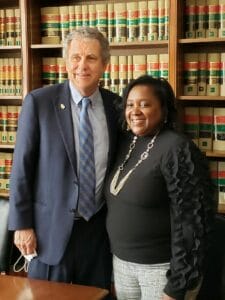 If you're having a bad day, Robyn King has some advice: "Call it a bad moment, a bad hour, but not a whole day, because you can always turn it around."
Robyn's positivity is infectious. A former teacher's assistant, the 57-year old mother of three now works part-time when she's not volunteering with young children or older adults. Her sunny outlook is all the more impressive when you hear about the ordeal that consumed much of her life for the past two years.
Robyn's mother passed away on October 3, 2020. Two days before, on October 1, she found out she was personally being sued by her mother's nursing home for close to $80,000. The nursing home had failed to let Robyn know that her mother's Medicaid renewal was denied as soon as it happened. As her mother's representative, Robyn should have been informed of this right away. Instead, bills went unpaid for months, until the amount owed had grown huge.
Robyn came to Legal Aid for help, and two veteran attorneys helped her fight the lawsuit and avoid any personal liability for the medical debt. Still, the emotional toll the lawsuit had on Robyn and her family was considerable, and the nursing home can still pursue Robyn's mother's estate for the funds. The whole saga would prove hard to forget. That's why, in early March, when Senator Sherrod Brown asked Legal Aid if a client would testify at an upcoming hearing about the devastating toll of medical debt, Robyn got a call right away.
On March 29, 2022 Robyn delivered a passionate and powerful message to the Senate Committee on Banking, Housing, and Urban Affairs.
An excerpt is below. The full text of Robyn's testimony is available online at www.banking.senate.gov/hearings/economic-impact-of-the-growing-burden-of-medical-debt.
Legal Aid is honored to have worked with Robyn, and we are grateful for her advocacy on behalf of people around the country facing exorbitant medical debt.
---
"There is no reason I should go into massive debt so that my mother could live out her final months in a safe and comfortable place, with her basic needs met…. Getting sick or having a family member get sick should not force people to face crushing amounts of debt…. There is just no excuse for this in America.
I thought that I had done everything right in taking care of my Mom, but without the good fortune of having Legal Aid represent me, I would have had an enormous judgment against me, and my family's financial future would have been devastated.
As I stand here today, I cannot tell you how relieved I am to know I can keep my home, keep providing for my kids, keep my life as it is. I want my story to shed light on what's happening to normal, everyday people in this country who are just trying to care for themselves and one another.
I hope you [Senate Committee Members] can take action to protect people like me, and not allow medical debt to upend people's lives…. I do still believe in the positive potential of every day, and I hope that today, you can help me turn my story into something positive."
---
This article was published in Legal Aid's "Poetic Justice" newsletter, Volume 19 Issue 1 in May 2022. See full issue at this link: "Poetic Justice" Volume 19 Issue 1 – Legal Aid Society of Cleveland (lasclev.org)