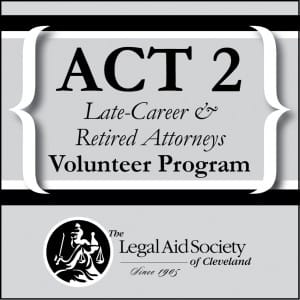 ** CLICK HERE to fill out your ACT 2 Volunteer Registration form! **
What will your next step be? ACT now to get involved with Legal Aid!
Act to use your years of legal experience to help those in need,
Act to contribute to your professional legacy,
Act to ensure shelter, safety, and economic security for vulnerable members of our community.
Attorneys often use their transition from full-time work as an opportunity to volunteer. Whether they are scaling down their practice or retiring, ACT 2 allows attorneys engage in pro bono work by providing a number of diverse volunteer opportunities. Volunteer attorneys help ensure shelter, safety and economic security for the most vulnerable members of our communities.
Our ACT 2 volunteer opportunities provide a great deal of flexibility to our volunteers depending on the kind of work and time commitment they are looking for. These positions include:
Traditional pro bono work: This can include participation in a brief advice clinic, assisted pro se clinics, or accepting a pro bono case. Clinics will be held across our service area and each clinic takes around three hours. Pro bono cases can be worked on remotely and take varying amounts of time.
In-house work at Legal Aid in a substantive practice group: Volunteers will work with and be trained by one of Legal Aid' practice groups – family, housing, consumer, community engagement, or HEWII (health, education, work, income, and immigration). These positions may require a long-term time commitment, and the work involved will depend entirely on the needs of the individual practice group. Most of this work will take place in Legal Aid's Cleveland office at 1223 West Sixth Street in downtown Cleveland.
In-house work at Legal Aid with the Volunteer Lawyers Program (VLP) leading a project or program: VLP in-house volunteers will be given a discrete project to regularly participate in or manage. Time commitment will vary by project and role within the project. Most of this work will take place in Legal Aid's Cleveland office at 1223 West Sixth Street in downtown Cleveland.
Legal Aid supports ACT 2 volunteers with malpractice insurance, office space and support, training and mentors. Volunteer attorneys can receive CLE credit for pro bono work, and Legal Aid offers free CLE sessions to volunteers throughout the year on a variety of topics. If volunteers are interested in seeking Emeritus status with the Ohio Supreme Court, Legal Aid will provide documentation, support, and information related to this new designation.
Qualifications for all ACT 2 positions include:  A commitment to public service and to advocacy for low-income persons; excellent legal writing, research, and advocacy skills; ability to work alone and with a team; appreciation for diverse cultures and communities.  Substantive experience is not necessary.  Volunteers will work closely with staff attorneys and will receive training.  Volunteers must be licensed to practice law. Legal Aid's malpractice insurance covers all pro bono activities.
If you are interested in volunteering, please click here to submit your information and resume. You will be contacted by a Legal Aid staff member.