2021 National Celebrate Pro Bono Events
---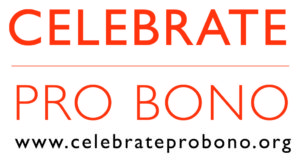 "Moving Forward in a Post Pandemic World" is the American Bar Association theme for 2021's National Celebrate Pro Bono Week.
And, The Legal Aid Society of Cleveland's celebration of pro bono supporters will take place throughout October, not just during the ABA's official week of October 24 - 31, 2021.
We will continue with various virtual events - including clinics and opportunities for attorneys to learn more about pro bono practice Continuing Legal Education (CLE) programs.  And, we'll kick-off our return to in-person clinics with "by appointment only" opportunities for people with low-income to meet with volunteer attorneys and get brief legal advice.
Our October 2021 celebration includes Legal Aid, numerous bar associations, the judiciary, community based organizations and volunteer attorneys.  In Northeast Ohio, the celebration will include:
Highlights of how easy it is to do pro bono with Legal Aid through our #TakeACase outreach effort.
More options to help, pro bono.  Click here to visit our "take a case" listing to see new cases just added!
A push to gain 100 legal volunteers for Say Yes to Education.  Click here to sign-up!
CLE programs to help pro bono attorneys get trained - visit Legal Aid's website calendar to learn more and sign-up.
An early October phone bank where attorneys and law students will provide legal information via phone, in partnership with News 5 Cleveland and United Way.
The Cleveland Metropolitan Bar Association's annual Halloween Run - which has both in-person and virtual options this year.
...and much more!
Visit our events listing for the most current event details!
And, check out this inspirational message from ABA President Reginald M. Turner, as he inaugurates this year's Celebrate Pro Bono theme: "Moving Forward in a Post Pandemic World"