#MyLegalAidStory: Tessa Gray
Posted October 27, 20238:00 am
---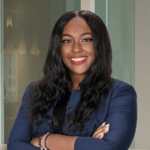 Legal Aid volunteers work with Legal Aid staff to extend Legal Aid's reach in Northeast Ohio. Learn here the #MyLegalAidStory of Tessa Gray, a longtime Legal Aid volunteer.
---
Before entering the halls of Howard University School of Law, Tessa Gray knew that becoming an attorney would give her the ability to help people.
"I'd grew up witnessing and hearing about injustice and I wanted to understand the dynamics of our legal system so I could understand how to reasonably combat those injustices," said Tessa.
After becoming an attorney with Taft, Tessa attended an office presentation to learn more about volunteering with Legal Aid.  That presentation encouraged Tessa to get involved.
"Pro bono work is highly encouraged at Taft, so as opportunities arose that piqued my interest, I would volunteer and get involved," she said.
Tessa loves being able to have a tangible impact on people's lives through volunteering and fondly remembers her first time volunteering at a Legal Aid record sealing virtual advice clinic.
"I remember being very nervous and re-reading the instructions over and over. I was afraid that I was going to mess something up," said Tessa.  "Then when I got on the phone with the client, it was one of the most natural conversations I'd ever had. I felt like I was genuinely making a difference and could tell how appreciative the client was. It was an experience that encouraged me to remain actively involved with the clinic."
Tessa encourages others to volunteer, noting that pro bono work is incredibly rewarding.
"It doesn't have to be time-consuming. Offering even a half hour or an hour of time to a project or clinic every couple of months is a small amount of time in the larger scheme of things, but that time has the potential to change someone's quality of life," she said.  "I think if an attorney has the ability to do that and choose projects that align with their interests and skillsets, they'll find it to be a gratifying learning experience."
Tessa, who practices in the areas of intellectual property and franchise law, would also encourage attorneys who work in more specialized areas to still volunteer.
"You don't need to be an expert. Most organizations have resources and other attorneys who can guide you through the processes and tell you what to do. Also, for advice clinics, sometimes you aren't providing a legal answer or remedy. Many times, it's providing practical guidance and counseling clients on next steps which doesn't always necessarily involve legal action."
---
Legal Aid salutes the hard work of our pro bono volunteers. To get involved, visit our website, or email probono@lasclev.org.
And, help us honor the 2023 ABA's National Celebration of Pro Bono by attending local events this month in Northeast Ohio.  Learn more at this link: lasclev.org/2023ProBonoWeek