#MyLegalAidStory: Greg Jolivette
Posted October 4, 20223:58 pm
---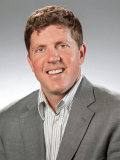 Many cases change your clients' lives – but have you ever stopped to think about a case that may have changed yours too?
Over a decade ago, I was a new attorney practicing business-related litigation, when I decided to Take a Case with Legal Aid. I worked closely with a senior attorney at my firm to help a family in need.
The family came home one day to find a padlock on their door – along with a notice that because of an unpaid water bill, the home was deemed uninhabitable. The family had been paying their rent on time and in full, but their out-of-state landlord didn't pay the water bill. The shocked family had to scramble to figure out their next steps – which included reaching out to Legal Aid.
Legal Aid stepped in, assigned the case to me and my colleague, and we quickly got to work. This type of case was new to me, but with my colleague's good counsel and mentorship, I was able to do things I had never done before. I conducted a site visit and interviewed my clients and others, researched the applicable law, drafted a complaint, and negotiated with the adverse party. For me, these were exciting opportunities as a new attorney.
This family's devastating scenario could have forced them into homelessness; instead, they received a settlement and found a new place to live. It was incredibly rewarding for me to be able to help this family and really make a difference in their lives. Volunteering with Legal Aid offered me an opportunity to be this family's voice and seek justice on their behalf.
If you are nervous to Take a Case – let this be the reassurance you need that it is worth it – both for the clients who need your help and for the opportunity to stretch yourself. Everything with this case was outside of my immediate practice area, but as lawyers we are trained to learn. My fear of taking on something unfamiliar was outweighed by the opportunity to learn new skills and help those in our community.
Thank you for supporting Legal Aid – for more information about volunteering, click here, or email probono@lasclev.org.
Greg Jolivette, Esq.
Assistant General Counsel, Sherwin-Williams