#MyLegalAidStory: Rachel Ippolito
Posted April 17, 20233:00 pm
---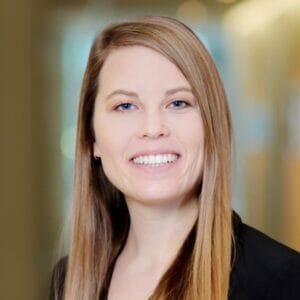 Contribution, growth, and connection—these are the principles that have defined the pro bono work of Jones Day attorney Rachel Ippolito.  
A native Clevelander, Rachel attended Case Western Reserve School of Law where she had her initial experience with Legal Aid as a law student volunteer. Like other law students, she helped do intake at Legal Aid's neighborhood Brief Advice Clinics.  
This experience sparked a passion for pro bono that would blossom when Rachel began her practice at Jones Day, a law firm with a strong pro bono culture and deep history with Legal Aid. As a new associate at the firm, she could now counsel clients at the neighborhood Brief Advice Clinics.
Rachel's participation in the Volunteer Lawyer Program only expanded as Rachel honed her professional skills while giving back. She has spearheaded Jones Day's participation in the Right to Counsel (RTC) Initiative, both taking on RTC cases herself and coordinating RTC cases other Jones Day attorneys take on. Through her work at Legal Aid, Rachel has become a better attorney—enabling her to apply new skills to her work at Jones Day—and deepened her ties to Cleveland's vibrant legal community.  
Rachel's connection to Legal Aid and attorneys and law students who have felt a call to serve their community has allowed her to further such innovative work as the Right to Counsel initiative, which provides legal representation to clients facing housing vulnerability.
She has advice for attorneys who find themselves in a similar position today: "You have the skillset today to contribute to Legal Aid's initiatives. And your contributions make meaningful impacts on the people in our community. Together we can work to improve our neighbors' quality of life." 
---
Legal Aid salutes the hard work of our pro bono volunteers. To get involved, visit our website, or email probono@lasclev.org.