Volunteer Lawyers Program grows to promote safe and healthy housing
Posted March 16, 20233:00 pm
---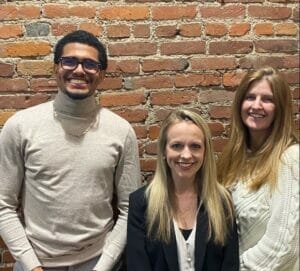 Thanks to a grant from the Legal Services Corporation (LSC) Pro Bono Innovation Fund, The Legal Aid Society of Cleveland is recruiting and training more volunteers to address the housing safety needs of tenants with low-incomes. In addition to eviction defense, this project will focus on building volunteer capacity to assist with issues that relate to unsafe living situations: poor housing conditions, rent deposits, lockouts and utility shutoffs.

Ben Dormus, Bobbi Saltzman, and Lauren Gilbride (pictured, left to right) are part of the team from Legal Aid's Volunteer Lawyers Program leading the expansion of safe and healthy housing work.
To learn more and get involved, visit lasclev.org/SafeHousing or contact Bobbi Saltzman, Staff Attorney, at bsaltzman@lasclev.org.  
---
Originally published in Legal Aid's "Poetic Justice" newsletter, Volume 20, Issue 1 in March 2023. See full issue at this link: "Poetic Justice" Volume 20, Issue 1.