Legal Aid attorney elected to the board of Neighborhood Pets
Posted March 6, 202311:00 am
---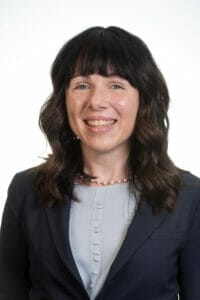 Lauren Hamilton, Esq., Supervising Attorney with Legal Aid's Housing Practice Group, has been elected to the board of directors of Neighborhood Pets.
Lauren began her career after law school as a solo practitioner, focusing her practice on family law and guardian ad litem work. She eventually joined the nonprofit Nueva Luz Urban Resource Center as a staff attorney, where she provided legal services to individuals living with HIV, practicing mainly in the areas of eviction defense and tenants' rights. Her interest in tenants' rights led her to Legal Aid, where she joined the Housing Practice Group in 2020, focusing on Cleveland's Right to Counsel.
Lauren is a member of the Cleveland Metropolitan Bar Association where she serves on their Mental Health and Wellness Committee. She is also involved with The LCADA Way, a drug and alcohol addiction treatment center that originated in Lorain County and that has expanded to Cuyahoga County. In addition to practicing law, Lauren is a certified yoga teacher. A graduate of Boston University, Lauren received her J.D. from Cleveland State University College of Law.
Based in the Slavic Village neighborhood, Neighborhood Pets is a community-based non-profit organization that supports low-income people by helping them keep their pets in their homes. The organization provides low-cost wellness care, a free spay/neuter program, a pet food bank, veterinary care assistance, and referral to other needed social services.