What changes are in store with the new tax laws?
---
Congress recently approved a new tax law that cuts rates for corporations, provides new breaks for private businesses and reorganizes the individual tax code. The official name of the law is: An Act to Provide for Reconciliation Pursuant to Titles II and V of the Concurrent Resolution on the Budget for Fiscal Year 2018 (the Act).
The new tax law also removes the penalty for people who do not maintain health insurance coverage beginning January 2019. This means Americans will no longer be required to have health insurance starting in 2019. Many of the provisions in the bill for individuals end after 2025, but the heath care provision continues indefinitely.
The Act retains seven tax brackets, but lowers the rates and increases the thresholds for taxable years 2018 through 2025 as follows: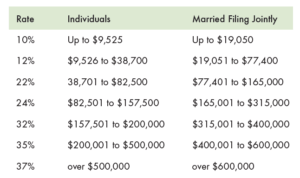 The new law changes several individual income tax deductions for tax years 2018 through 2025.
The standard deduction is doubled to $24,000 for married couples ($12,000 for individuals) and the personal exemption is eliminated.
The overall limitation on itemized deductions is eliminated.
Taxpayers can only deduct up to $10,000 in total for property, income and sales tax.
The child tax credit has increased to $2,000 per child, refundable up to $1,400.
The mortgage interest deduction has been limited to $750,000 (existing mortgages are grandfathered up to the current $1,000,000 limit).
Interest on home equity loans or home equity lines of credit (new or existing) is no longer deductible.
For taxpayers who sign divorce agreements after December 31, 2018, alimony will no longer be deductible by the payor or taxable to the recipient.
The medical expense deduction has been retained.
The deduction for charitable gifts is retained and expanded to allow taxpayers to deduct up to 60% of their adjusted gross income for gifts of cash to public charities.
Remember to consult with your tax professional or one of the Volunteer Income Tax Assistances (VITA) sites in your community for help with the tax law changes affecting your 2018 federal tax return. For help resolving a dispute with the IRS, contact Legal Aid's Low Income Tax Payer Clinic by calling 1.888.817.3777. Please note Legal Aid does not prepare tax returns.
This article was written by Dennis Dobos and appeared in The Alert: Volume 34, Issue 1. Click here to read a full PDF of this issue!