Hazel Remesch Assumes New Leadership Role
Posted June 23, 20225:00 pm
---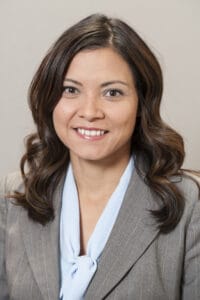 Hazel Remesch, Esq., previously Managing Attorney of Legal Aid's Right To Counsel Program, now has a new role as Managing Attorney of Legal Aid's Housing Practice Group (which includes the Right To Counsel Program). In this expanded role, Hazel will provide expertise and leadership for Legal Aid's growing housing team.
Housing advocates in Cleveland are already familiar with Hazel's work - after completing a fellowship with The Sisters of Charity Foundation in 2019, Hazel won a grant to create Legal Aid's Housing Justice Alliance. With a focus on helping people avoid eviction by establishing a right to free, high-quality civil legal counsel in eviction cases, this work laid the foundation for Cleveland's Right To Counsel legislation.
Hazel initially joined The Legal Aid Society of Cleveland in 2008 as a staff attorney, concentrating on federally subsidized housing matters including evictions and terminations. In 2012 she was recognized with Legal Aid's Claude E. Clarke Award for outstanding service, and in 2016 with Legal Aid's Leadership Award. Hazel received her JD from St. Thomas University and her BS from Florida International University.