Alexandria Ruden honored with Visionary Voice Award
Posted May 4, 20239:00 am
---
Congratulations to Alexandria Ruden, Esq., Supervising Attorney in Legal Aid's Family Law Group, who was recently honored by the National Sexual Violence Resource Center (NSVRC) with a 2023 Visionary Voice Award.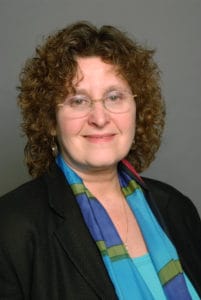 Alexandria Ruden has dedicated her career to protecting survivors of domestic violence, both through legal representation and policy advocacy. In 1984, she joined Legal Aid, where she began the firm's domestic violence practice. At Legal Aid, Ruden helps survivors of domestic violence obtain and improve their safety through representation in Civil Protection Orders (CPO), divorces, and child custody cases. cases.
Alexandria has personally helped more than 5,000 survivors of domestic violence, interpersonal violence, and sexual violence throughout her 40 years of practicing law. She envisioned, helped design, and implemented the Domestic Violence Department at the Cuyahoga County Domestic Relations Court. Through this Department, survivors have the support of domestic violence advocates located in court who help them prepare the CPO petition, guide them through the CPO court process, and assist the survivor in safety planning.
Her service on statewide boards and committees has also resulted in increased and improved services for victims of domestic violence, sexual assault, and stalking. Alexandria was nominated for the Visionary Voice Award by the Ohio Alliance to End Sexual Violence.
The National Sexual Violence Resource Center (NSVRC) is the leading nonprofit in providing information and tools to prevent and respond to sexual violence. NSVRC translates research and trends into best practices that help individuals, communities and service providers achieve real and lasting change. NSVRC offers the Visionary Voice Awards, in conjunction with Sexual Assault Awareness Month each April, to recognize the creativity and hard work of individuals around the country who have demonstrated outstanding work to end sexual violence.
Read more about the award recipients: Visionary Voice Awards 2023 | National Sexual Violence Resource Center (NSVRC).